Research Experience for Teachers program is a springboard to ongoing relationships with local schools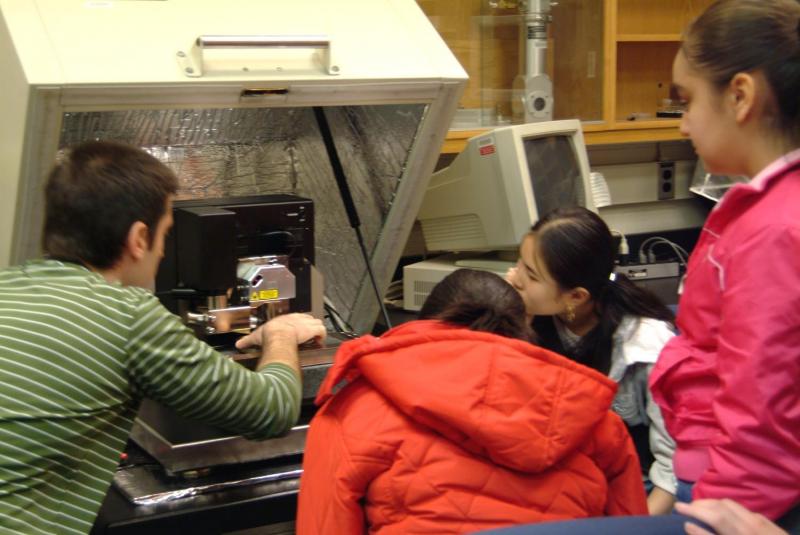 After spending two summers participating in the Research Experience for Teachers Program at MIT's MRSEC, Ms. Julie O'Loughlin, a science teacher at Breed Middle School in Lynn, MA, brings her eighth-grade classes to CMSE to share the exciting research being done at the Center. The workshop is one example of the unique synergistic interaction between the research, facilities and education components of the MIT MRSEC.
Thirty-eight Breed School students participated in the half-day workshop on battery materials that featured the research of the Science and Engineering of Solid-State Portable Power Structures group (IRG-IV). Graduate students collaborated with staff from the Shared Experimental Facilities (SEFs) to plan the workshop. The graduate students reviewed battery chemistry with the eighth-graders, then described their research on materials to increase battery efficiency. They and the SEF staff helped the students make battery cells and led them through an exploration of how the substitution of different metals and solutions impacts the voltage output. Next, the students visited the SEFs to see how state-of-the-art instruments are used by researchers to learn about the structure and properties of different materials. In the course of the workshop the middle school students learned how "real" scientists and engineers identify, define and try to solve research problems.
Photo: Graduate student Alexi Arango demonstrates the use of the CMSE SEF atomic force microscope to the students.