New Dual Beam Focused Ion Beam System
Objective: To develop nanofabrication capabilities that will allow for writing structures as small as ~10 nm.
Approach: Use MRSEC funds provided by the State of Utah to purchase state-of-the-art nanofabrication capabilities to expand existing materials research capabilities.
Results and Significance: We have purchased and installed a new $1.5M dual beam focused ion beam system that is housed in the University of Utah Nanofab. The system is being used extensively within MRSEC to create nano-plasmonic devices.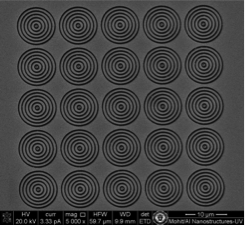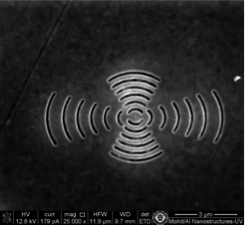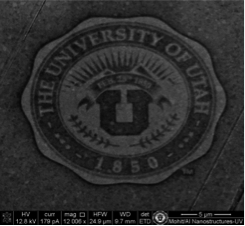 Photographs of three nanoscale structures written using the FIB. The two images on the left are bullseye antennas designed for plasmonics applications in the ultraviolet. The image on the right is the University of Utah logo. The smallest features are ~2000 times smaller than the width of a human hair.