Program with Southern Africa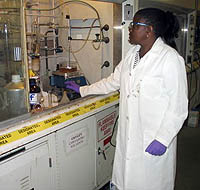 Since 2003 we have successfully partnered with universities in southern Africa, specifically Lesotho and South Africa, to bring four faculty members to the LRSM every summer to participate in collaborative research projects with our associate faculty.

During the summer of 2003 four faculty members, three from the National University of Lesotho and one from the University of North West, South Africa, visited the MRSEC for a month.

In summer 2004 three faculty members from the NUL spent two months at the LRSM undertaking collaborative research. The researchers and their projects were; Prof. Ben Maliehe, Physics, NUL who worked with Prof. Charles Kane, Physics on 'The effect of electron interactions on the magnetic susceptibility of carbon nanotubes,' Prof. Ncholu Manyala, Physics, NUL, who worked with Prof. Charlie Johnson, Physics on 'Electron transport and phonon spectrum in hybrid nanoscopic "peapods", and Prof. Mantoa Sekota, Chemistry, NUL who worked with Prof. Donald Berry, Chemistry, on 'New polymerization catalysts for control of helical domains in opto-electronic polymers.' Since 2003, the following faculty from Southern Africa have participated in this program.